Case Studies
Tampa Palms
Tampa Palms is a residential neighborhood located in the New Tampa area of Tampa, Florida.  Tampa Palms is complete with homes, shops, offices, churches, recreational facilities, schools and dining facilities. After years of using the same branding for their community signage, they decided it was time to revamp their look.
Tampa Palms came to Arete Industries for unique ideas and solutions to rebrand their community signage. We met with the client onsite to view the property and understand what they were looking for. We proposed several material choices and design concepts that would create a cohesive look throughout the community to achieve their goal of a revamped look. We were involved throughout the whole implementation process by interacting with the client and their board and worked with the client's architect on design changes to existing sign structures.
Once materials and a design were approved, we went to work manufacturing the new entrance signs, park signs, wayfinding signs, street signs, fencing and site furnishings. We then coordinated with the client's contractors to ensure timely installation of our products. As an end result, the signage achieved their mission and created an enhanced overall look and feel of the community.
Stellar Development
Stellar Development is a commercial and residential general contractor and construction management company located in Lakewood Ranch, Florida. As one of the fastest-growing general contractors in Florida, Stellar Development had a quick need to create a new look for multiple apartment complexes they recently purchased.
To achieve this, Stellar Development came to Arete Industries for consultation, design and manufacturing of new signage and name changes at each of their complexes. We met with the client onsite to get a feel for the different complexes and how best to incorporate the existing apartments' look into sign design. We proposed several material choices and design concepts specific for each complex.
We then manufactured and installed the signs completing the transformation. The end result was new signs to match the unique look of each property.
Cross Creek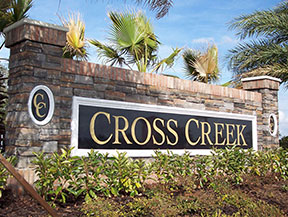 Cross Creek is a residential community located in Tampa, Florida. They were looking for a refreshed look for their existing entrance sign.
Cross Creek came to Arete Industries for consultation and new ideas for how best to enhance the overall look of the community. We met with the client onsite to review the area and space for the new signs. After review, we proposed several material choices and design concepts that we felt would achieve their goal of an updated look.
We then worked with the county on sign location, sizes and permitting and coordinated with the landscaper to ensure a cohesive design for the final landscape plan. We then constructed new concrete, brick and stone monument with granite signage. As an end result, Cross Creek now features an aesthetically pleasing sign which could attract new residents to the community.
Addison Reserve Country Club
Addison Reserve Country Club is an exclusive golf and tennis facility located in Delray Beach, Florida. The club decided due to the competitive environment in Southwest Florida they needed to upgrade their amenities to reflect the upscale image and reputation they had established. Thus the club underwent an 18 million dollar renovation which included expanding their clubhouse to a 70,000 square foot building.
As part of the club's efforts to upgrade, they contacted Arete Industries to create unique property furnishings that would coordinate with the architectural styles included in the new clubhouse. The hope was that a coordinated look could be designed for all of their property amenities that included the dark brown wood paneling and the use of the club's iconic bronze and maroon logo that were being highlighted in the construction.
The end result was the design and manufacturing of course and clubhouse products that not only met the aesthetic desires of the facility but also the budgetary requirements. Products provided included numerous refreshment stations, divot mix storage containers, waste receptacles, and yardage markers. The products were so well received by the membership that the club has extended this design into their tennis facility by upgrading their refreshment containers and ice coolers.
In the end, Arete Industries was able to meet all of the goals and objectives set forth by Addison Reserve in a timely and efficient manner.
Carrollwood Country Club
Carrollwood Country Club is an exclusive golf and country club located in Tampa, Florida.  In 2012, they underwent extensive upgrades to the 27-holf golf course by adding Champion Ultradwarf Bermuda to the course. With this upgrade, they also had a need for updated course products, directional signage and entrance sign to complete the transformation.
Carrollwood Country Club came to Arete Industries to achieve this updated, cohesive look for the property. We went onsite to meet with the owner and see the property first-hand. We then evaluated the products and furnishings to be upgraded and gave them various options of materials and designs.
Once they approved of a new design, we manufactured all the products and signage to match the new look of the club. Members and staff love the new look and felt this upgrade was a needed change.
Florida Polytechnic University
Florida Polytechnic University  is Florida's newest and only public university dedicated to science, technology, engineering and mathematics (STEM).The campus is situated on 170 acres in Lakeland, Florida.
In anticipation of university opening their new campus in August 2014, they contacted Arete Industries about designing custom receptacles that would accomplish multiple objectives. First, they wanted a design that would compliment the University's signature Innovation, Science and Technology Building designed by architect Dr. Santiago Calatrava. The building has become a local landmark and destination for photographers and videographers. Second they wanted to provide waste and recycling containers for their campus that reinforced their commitment to sustainability. Lastly, they needed the units to be durable enough to withstand the harsh Central Florida humidity and intense sun exposure.
The resulting waste receptacle and recycling bin designs included a unique curved roof  to emulate the signature campus building, as well as colors that coordinated with other architectural accents on campus.  Additionally, the units were manufactured using HDPE recycled plastic which reinforced the University's commitment to sustainability. The material also provided a low maintenance solution as it requires no painting or staining, and offers a higher color retention than painted or baked finishes.
The final component of the project included professional delivery and installation. Working in conjunction with the Florida Polytech personnel to decide on appropriate waste collection locations, Arete Industries securely fastened each receptacle to concrete pads with ground anchors to ensure a permanent functional fixture.
West Meadows Community
The Community of West Meadows is made up of many "villages", a Community Recreation Center and Common Property located in the New Tampa district of Tampa, Florida. Working in conjunction with Greenacre Properties, one of the state's largest community management companies, Arete Industries was asked to propose a signage program to replace out of date units with new decorative street signs that met current DOT specifications for reflectivity and breakaway capabilities, The end result would enhance the overall aesthetics of the community and reduce association liability by bringing all street signs to current DOT specifications.
Arete Industries provided a turn-key solution for the community that included the design, manufacturing, permitting and installation of all units around the community. The custom community signage package included street, direction, wayfinding and entrance monuments with a cohesive aesthetic. The project provided a unique opportunity to integrate city supplied DOT signage with decorative components to achieve an economical yet upscale look.
Lloyd Rials, who serves as West Meadows community manager for Greenacre Properties had the following response to the completed project, "I want you to know how grateful we are for the job you have done on signage in West Meadows.  It looks absolutely fabulous!  It totally transforms the neighborhoods from marginal to excellent.  I greatly appreciate how responsive your company has been. Thank you very much for such excellent work."
Four Seasons Orlando Resort
Four Seasons Orlando Resort located in Orlando, Florida contacted Arete Industries to assist in designing and manufacturing coordinated golf course signage and site furnishings for their new golf course and resort property. Products were to include golf tee signs, directional signs, driving range products, bag drop area furnishings and all course refreshment stations. Additionally the resort was in need of custom pool storage boxes, towel return bins and towel huts that would accommodate their existing rolling linen carts.
After several on-site consultations it was determined that the best materials for use on property were going to be cast aluminum, ipe hardwood and recycled plastic. Cast aluminum would provide a clean modern look for all golf course signage and brand related logo medallions. The ipe hardwood offered an elegant, yet natural, appearance for all golf course furnishings. While the recycled plastic provided the most durable solution for poolside products that are constantly exposed to extreme sun, heat and pool chemicals.
All products were designed and manufactured to meet the upscale look and exceptional quality normally associated with a Four Seasons Resort. The end result was a product offering that helped the Four Seasons Orlando receive the coveted Five Diamond Award by AAA; being the only resort in Orlando to be presented with such an honor. "The AAA Five Diamond Award is a true testament not only to the incredible amenities our Resort offers", Thomas Steinhauer, Regional Vice President of Four Seasons Hotels and Resorts and General Manager of Four Seasons Resort Orlando stated, "We are humbled to receive this designation and vote of confidence while establishing a loyal following of guests for this exciting destination,"calling the resort an "oasis" after the updates they acquired.
City of Gainesville Parks and Recreation Department
The City of Gainesville Parks and Recreation Department contracted with Arete Industries to create a waste and recycling bin that would accommodate their dual stream waste collection, but more specifically to create a solution for separating waste from bottles and cans. They needed a solution that was well suited for extreme weather conditions, animal resistant, and included clearly visible graphics to ensure the end users understood the waste separation initiative.
Also needed were colors that blended well with their park settings, and the units needed to be made from a material that reinforced their commitment to sustainability. Additionally desired were personalized features such as curved style roofs, lockable doors and routed and in-filled labels.
HDPE recycled plastic was deemed to be the best suited material for the receptacles due to it's many inherent features. The material is available in eight standard colors, it won't rot, crack or split. The material contains UV inhibitors allowing for high color retention, and it is scratch and graffiti resistant. The finished products provided waste and recycling receptacles that achieved all of the outlined objectives, and a substantial cost savings from other sources that were available.